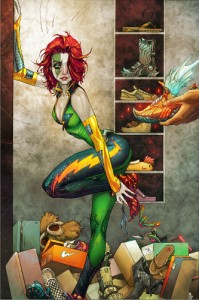 Wally West isn't the only red-headed speedster out there. Velocity, winner of Top Cow's first Pilot Season, will finally be getting her own series this May.
Well, sort of.
Velocity has been a member of Cyberforce since it launched in the early 1990s, and has had two solo books.
Return
Top Cow has announced a new Velocity miniseries starting in May, written by Ron Marz and drawn by Kenneth Rocafort (who did variant covers for the unlaunched series).
Ron Marz remarked to UGO:
I've been getting to use the supernatural side of the Top Cow Universe as my playground for a while now, so I jumped at the chance to write one of my favorites from the superhero/tech side.
Read the full article
here
.
Source:
Speed Force
---