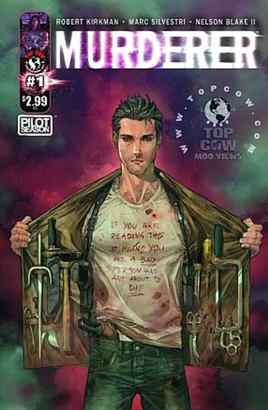 Comics Guy was deciding which comic to review this week when he came across a book that seemed to scream from the shelves: "Come on! Check this out!"
The book was "Murderer," from Image's Top Cow imprint. The title itself had a coolness factor to it. Despite all the violence in comics through the years, from classic superhero action to gritty crime comics, Comics Guy could not recall a comic with that title.
"Murderer" was co-created by Robert Kirkman and Top Cow CEO Marc Silvestri, who seem determined to make "Murderer" distinct from vigilantes like the Punisher. Kirkman obviously did not want to settle for brutal cliche or have Jason, the title character, be a mob hit man, a serial killer, psychopath, sociopath or a run of the mill "I'm-running-around-hacking-people-up-murderer." Kirkman eschews all of these well-worn archetypes and came up with a unique reason for the murdering, something that makes him a compelling character that readers will want to know more about.
Read the full article
here
.
Source:
Philadelphia Daily News
---