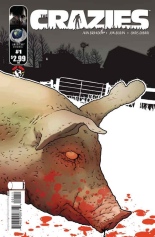 To tie in to Breck Eisner's film THE CRAZIES (itself a remake of George Romero's 1973 thriller), Top Cow Productions and Image Comics teamed up for a four-issue miniseries based on the movie. Rather than a straight adaptation, the creators — all of whom differ issue to issue — opted to tell a self-contained prequel, each focused on a mostly different set of secondary characters in the flick's small Iowa town.
In the first, a poor farmer and his angry pigs are in the spotlight. In the second, another farmer — this time, of diseased cows — takes center stage. The third features the head of a funeral home. All these paranoid guys go nuts, with their stories ending on the points presumably that the film picks up.
The fourth and final issue finds a band of well-armed rednecks taking aim at the zombies who've infiltrated their Ogden Marsh turf. It's the most action-oriented of the bunch, and probably what you would've expected the entire run to be. As a whole, the series carries the feel of good '70s horror comics, like something James Warren would've published, and I hope these get collected into a trade paperback down the line.
Scripts and art are solid throughout, even though the creative talents have limited amount of space — roughly 22 pages — to tell each tale.
Source:
Bookgasm
---